Specialty Products Ltd.
Unique Industrial Strength Products for Professional Building Maintenance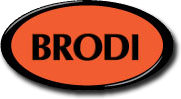 Vapour Block
Citrus-based dry drain maintainer, AKA floor drain odor stopper, sewer gas smell eliminator
Stop the sealing water in P-traps from drying out in areas where there is infrequent use, eliminating sewer gas smells and insects. Also for use in drains without a P-Trap.
Watch Video
How to keep drain traps from drying out?
This easy-to-use floor drain odor stopper eliminates sewer gas smell from the drains and reduces the efforts of maintenance by creating a vapor barrier on top of the water in the P-trap reducing the water's evaporation rate.
Product Information
What causes the sewer gas smell from floor drains in buildings?
This is usually caused by dry P-Traps. When a drain's P-Trap is functioning correctly it acts as a seal preventing odors and/or potentially explosive methane gases from entering rooms through the drains.
P-Traps typically dry out in remote areas where there is no trap seal primer or it is not functioning correctly. Without a constant supply of water, a P-Trap will eventually dry out leaving the drain fully exposed.
Trap seal primers are designed to provide a supply of water to replenish P-Trap for drains located in infrequently used areas. In some cases, they are a small piece of tubing which feeds water to the P-Trap when a sink is used or a toilet is flushed.
Without a properly functioning trap seal primer, maintenance personnel has to feed water manually every week or so to prevent the drain trap from drying out.
How to keep drain traps from drying out, hence keep buildings from sewer gas smells?
Easy to use Vapour Block seals in the water located in P-Traps by creating an evaporation resistant floating seal that lasts for extended periods of time. Depending on the humidity level, Vapour Block can last 6 months or more, greatly reducing the amount of maintenance required.
More interesting reading from the blog article: Stop drain P-Traps from drying out and eliminate sewer gas odors
Why using this dry p-trap maintainer
Natural citrus formula
Slow evaporation rate
Creates a seal in the P-Trap of the drain preventing the water seal from evaporating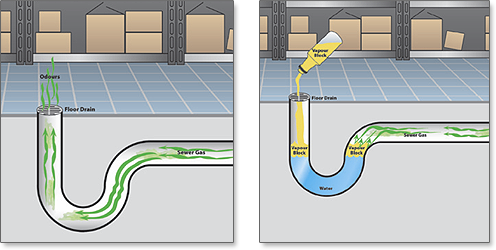 How to apply it to dry drain traps
For initial treatment:
Add sufficient water to fill the "P" trap.
Then, add 16oz - 32oz (1L) of Vapour Block to seal in odors and prevent evaporation.
Recommendation for regular maintenance:
| | |
| --- | --- |
| 2" drains | 16 oz |
| 4"+ drains | 32 oz |
| 6"+ drains | 4 L (1 gallon) |
Repeat the above treatment when necessary.
---
Downloads
Brodi Plumbing Catalogue

Vapour Block
Customers who bought this product also purchased