Call Toll Free 1-877-744-0751

Specialty Products Ltd.
Unique Industrial Strength Products for Professional Building Maintenance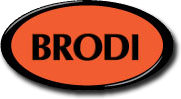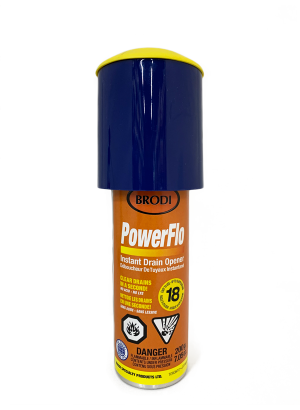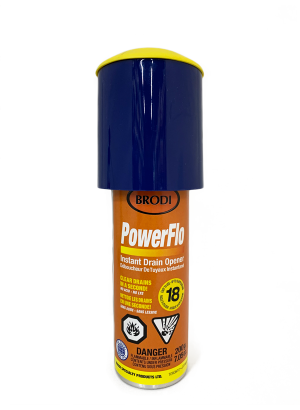 ---
This product has a minimum quantity of 12
---
Related Products
Powerflo
Non-Chemical Instant Drain Opener for all Diameter Drains
Powerflo is the first line of defence when dealing with initial blockage issues. Its small and compact size makes it easy to carry to problem locations for instant drain opening. Before using snakes and cameras, use Powerflo to remove the most common blockages quickly and cost-effectively.
Watch Video
PowerFlo - Clearing a difficult drain blockage
Non-Chemical Instant Drain Opener for all Diameter Drains. Magic Manny demonstrates PowerFlo's non-chemical shock wave pushing a red towel jammed in a glass drain clear out of the drain system
Related Videos
Product Information
Powerflo is designed for commercial use and contains a propellant formula that when released in water, expands rapidly, creating a standing wave. Using the water in the pipe as a hydraulic ram, Powerflo pushes the blockage through. No air pressure or chemical is actually used to accomplish this. Powerflo will not shoot up vent pipes and focusing only on the blockage.

Contains approximately 22 applications per can making it the most cost-effective drain solution. With no harsh chemicals, acids, CFCs, or lye, Powerflo is safe for the environment.

Application
Water is needed for Powerflo to operate effectively. The grey plastic cap must be submerged below water or water must be added separately to it. If there is standing water in the blocked fixture do not remove it, block overflow vents or opposite sink with a damp rag, place the Powerflo can and applicable components of the 3 part kit, upside down over the drain opening and press firmly for one second. Note: Hold the can for a few seconds for slow moving drains. Powerflo is capable of unblocking drains up to: 50' down a 1-1/2" diameter drain, 45' down a 2" diameter drain, 35' down a 2-1/2" diameter drain, 25' down a 4" diameter drain, 18' down a 5" diameter drain, 12' down a 6" diameter drain.

Dislodges blockages up to a maximum of 50' down a 1.5" drain line and to a minimum of 12' down a 6" diameter drains
Will not contaminate the ground water.
3 part kit enables Powerflo to be used all types of drains
For blocked or slow running drains
No Acids or dangerous chemicals
Compressed gas formula creates a standing wave which leads to instant drain opening
Will not travel up air vents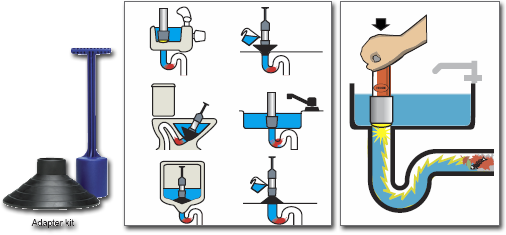 Check out the Powerflo Adaptor Kit for hard to reach applications.
Reviews
(1) Ratings
Rito Da Silva

I used this on a sink drain that was clogged and it worked.
Questions & Answers
(1) Questions
Q: Draino usually works for me. Why is this better?
A: Hi, there are no harsh chemicals in this, acids or alkalis and it will work far down your system. The cost per use of Powerflo also makes it cost effective.
Downloads
Brodi Plumbing Catalogue

Powerflo
Customers who bought this product also purchased