Free shipping on orders over $300.
Specialty Products Ltd.
Unique Industrial Strength Products for Professional Building Maintenance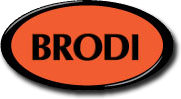 hood degreasers

Showing 1 to 1 of 1 (1 Pages)
Citrus-based Range Hood Degreaser and Drain Maintainer
Eliminates grease, fats, oils, slime and odour in range hoods.
Brodi Plumbing Catalogue - Download our catalogue in PDF format.

Brodi Plumbing Catalogue