Call Toll Free 1-877-744-0751

Specialty Products Ltd.
Unique Industrial Strength Products for Professional Building Maintenance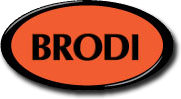 Pipewrap
Spray-On Anti-Sweat Pipe Insulating Coating
An anti-sweat insulating coating for pipes that stops and prevents AC condensation build-up and dripping from cold surfaces. Spray on pipe insulation.
Product Information
Keep pipes from sweating with our spray-on insulating coating. It dries to a clean, flexible, white finish and adheres to various pipe materials, including stainless steel and PVC. You can use it on cold water pipes, refrigeration lines, valves, and more. The water-resistant coating prevents damage caused by dripping water, making it a must-have for any building. Great for preventing stained ceiling tiles.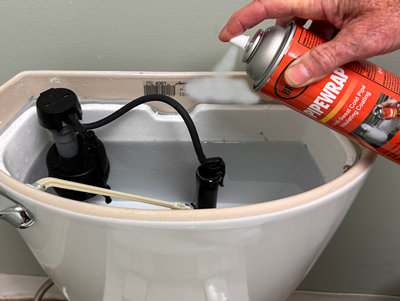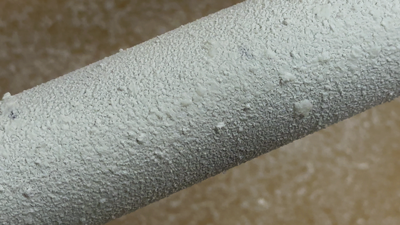 Dries to a clean, flexible, white insulating coating.
Overspray forms a powder that is easy to clean up.
Adheres to stainless steel, black iron, galvanized, brass and PVC pipes.
Excellent for repairing wrap-around, sleeve or foam-type insulation.
Will not crack on flexible piping
Durable, paintable & water resistant.
Non Flammable when dry
For use on cold water pipes, refrigeration lines, condenser lines, cold air ducts, valves and pipe fittings, water tanks, metal gutters & ice machine coils.
Stops damage caused by dripping water.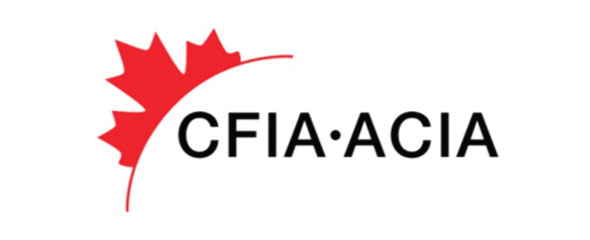 Canadian Food Inspection Agency Evaluated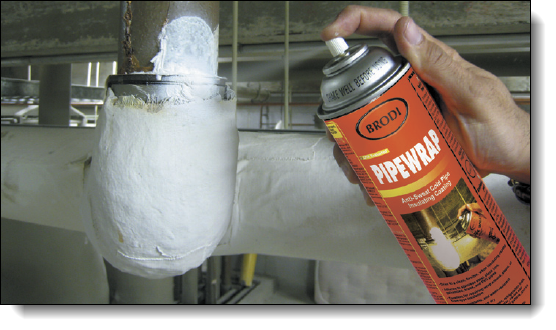 PIPEWRAP is a ready-to-use spray-on pipe insulator. Dries to a hard white coating that can be painted or primed. Prevents sweating and dripping on cold water pipes, refrigeration lines, condensers, air conditioning lines and other cold surfaces. Insulates water tanks, metal gutters, ducts and toilet tanks. Excellent for repairing wrap-around type insulation. Expanding spray conforms to irregular and hard-to-reach surfaces.
COVERAGE:
One can of PipeWrap provides 3 full coats on a 4-foot length of 2-inch pipe or a 16-foot length of ½ pipe.
DIRECTIONS:
Shake for 1 minute with the agitator ball moving and shake periodically during application. Ensure the surface is clean and dry before application. Hold the can 8-10" from the surface. Apply with a sweeping motion using several thin coats. Allow each coat to dry thoroughly.
USAGE:
For industrial, institutional and food plant use. Avoid contamination of food in the use and storage of this product. For use on non-food contact surfaces only. Remove or cover all food and food contact surfaces prior to application. Use in a well-ventilated area to prevent the accumulation of solvent vapours in food processing areas.
Reviews
(1) Ratings
Adrian Solema

asolema@gmail.com
I used this on my copper pipes behind the drywall. There was only a small access hole so the spray was the easiest way to add insulation. Seems to have stopped the dripping.
Questions & Answers
(4) Questions
Q: Hi Can I use your brodi pipe wrap on plastic pex piping? Can you send me the product information sheet on it? Thank you, Gary
A: Yes, it will work on Pex pipes and all plastic pipes.
Q: Have a hot boiler exhaust pipe (hot) 3 inches from an air intake pipe (cold) in an exterior wall of our new home. condensation formed on 1 one side of the pipe caused black mold. If we spray this on the cold pipe should we also use a pipe vent for air?
A: PipeWrap should take care of the condensation problem. A pipe vent is always a good idea if you can add one.
Q: How much coverage does one can provide? I'm trying to cover a steel pipe about 20' long
A: Pipewrap is best suited for areas that are difficult to access and apply regular pipe insulation. I would love to sell you a ton of Pipewrap but it's better and less expensive to use regular pipe insulation for longer pipes that you can access and then use PIpewrap for the irregular or hard-to-access areas.
Q: Can this be use on dual cold / hot water pipes?
A: yes, it can be used on both hot and cold pipes
Downloads
Brodi HVAC Catalogue

Pipewrap
Customers who bought this product also purchased