Call Toll Free 1-877-744-0751

Specialty Products Ltd.
Unique Industrial Strength Products for Professional Building Maintenance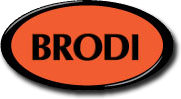 Broshot
The most powerful solution for blocked or slow running drains.
The powerful 2-part drain unblocking system contains a built-in odor control layer. Unblock toilets, sinks, water fountains and all drains less than 4" in diameter. Restores drains back to their original working diameter.
Watch Video
Watch Broshot in action. This powerful 2 part solution contains a powerful dissolver with a special odour control liquid layer that floats to the top to stop odours.
Product Information
Dissolves all organic matter. Bro-Shot consists of two different components, an acid and a floating deodorizer. The acid sinks through the water to the blockage, totally dissolving it while the deodorizer floats to the surface forming a seal that blocks any noxious fumes and gases. Unblocks drains in 10 minutes. The best solution for slow running drains.
Fixes slow running drains by dissolving built-up sludge and blocking organic matter from the walls of the pipes.
For those situations when regular off-the-shelf drain unblockers are just not strong enough.
Unblock toilets, sinks, water fountains and all drains less than 4" in diameter
Dissolves all organic matter including cigarette butts, tampons, grease, toilet paper, rags, hair and coffee grounds
Fast-acting, heavier-than-water liquid generates a spontaneous and powerful exothermic reaction that dissolves obstructions in minutes
Suppresses odours while working
Bro-Shot will not harm copper, steel, PVC or any ABS drain pipes.
The neck of the bottle acts as a pour spout, helping to prevent splashing.
Use the entire contents of the bottle for each application.
How It Works
Once the acid component reaches the blockage it reacts with the water, creating a powerful exothermic reaction. Heat is created which emulsifies, liquefies and dissolves most obstructions in minutes. Bro-Shot dissolves food, hair, grease, coffee grounds, coffee filters, tampons, rags, paper towels, toilet paper, cigarette butts, soap, sludge and tea bags.
DIRECTIONS FOR USE
Pour entire contents of the bottle into the blocked drain. (It is meant to be used as a 'one-shot' application)
Allow to sit for 5-10 minutes. DO NOT KEEP IN DRAINS FOR MORE THAN 10 MINUTES!
Flush with plenty of water for 5-10 minutes.
The drain should now be clear of any blockages.
Protect chrome or stainless steel drain rings and sinks from exposure. Use funnel to pour directly into the sink drainor if possible. Wipe BroShot away with a dry towel as soon as possible to avoid dis-colouring. If discolour occurs, scrub the surface immediately with a scrubbing pad.
Please wear eye protection and gloves. DO NOT GET ON SKIN.
For professional plumber use only.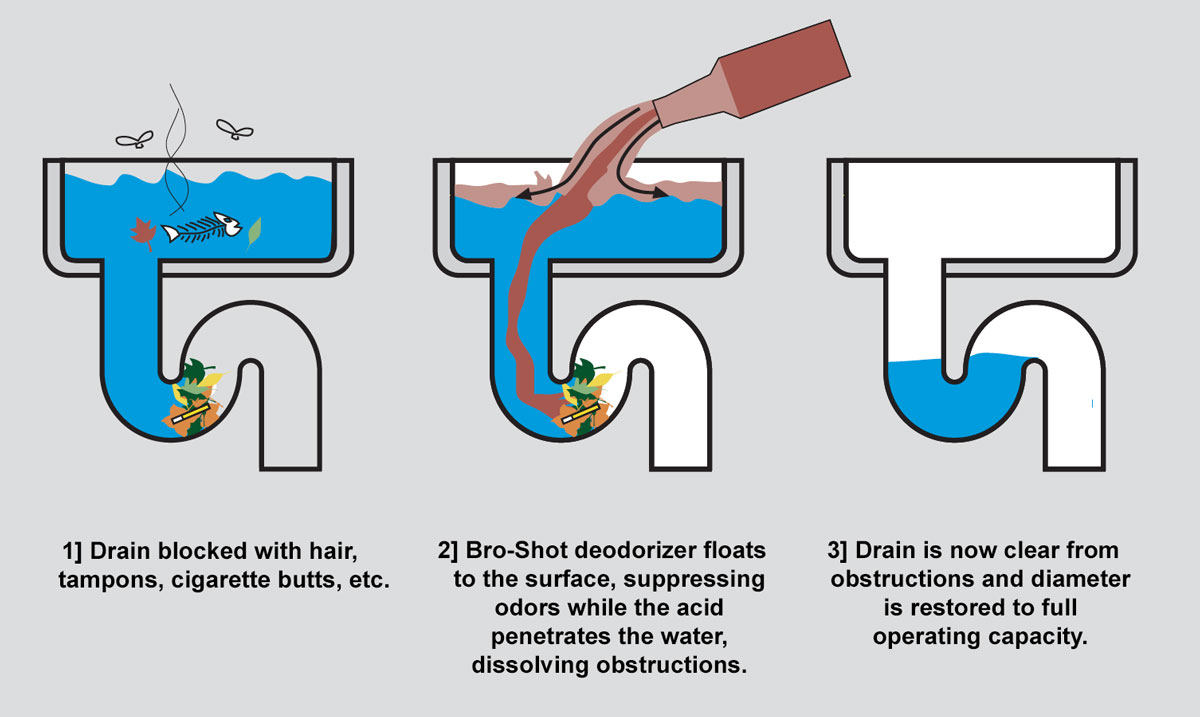 Reviews
(1) Ratings
Joe Carreiras

This is some serious stuff. Tried different products I bought at the Home Depot but nothing worked. This ate right through whatever was making things slow to drain.
Questions & Answers
(2) Questions
Q: is this product safe for use on cast iron piping systems and rubber gaskets? such as an urinal?
A: Broshot is safe for any current drain pipe material. Do not allow Broshot to sit in the drain for more than 10 minutes maximum. Also, please read all the usage and safety directions on the bottle.
Q: What is the difference between BroShot & Staxflo?
A: Broshot is made up of 2 of our other products, Staxflo and HDJ 925.

Broshot combines these 2 products in a single specially proportioned and easy to use bottle designed for non-drip pouring and it is easily transportable.

When the entire bottle is used the HDJ 925 component acts as an odor suppressant. Since it is lighter than Staxflo the HDJ 925 immediately separates and floats to the top, sealing off-odours and gases. The Staxflo, sinks immediately to the problem areas of the drain, eating through the most stubborn blockages.

Staxflo and HDH 929 are the bulk versions. Staxflo is recommended when large quantities are used for applications like 4" or larger drains same idea with HDJ 925.
Downloads
Brodi Plumbing Catalogue

Broshot
Customers who bought this product also purchased