Call Toll Free 1-877-744-0751

Specialty Products Ltd.
Unique Industrial Strength Products for Professional Building Maintenance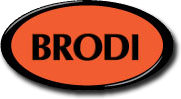 Brofix
Fast Epoxy repair putty
A fast-setting polymer compound that enables permanent repairs to all types of materials such as metal, wood, glass, masonry and plastics.
Watch Video
Make a bolt and repair copper pipes
Related Videos
Product Information
Professional-level material-specific epoxy repair that
contains similar materials to the item being repaired
enabling it to mimic the expansion and other properties
of the material being fixed.
Brofix Epoxy Putty Repair Stick.
Brofix comes in 8 different material types. Each one is specially designed to bond and best imitate the properties of the material being repaired. The Multi-Purpose version is for any other material and works surprisingly well on just about anything. Each handy stick contains pre-measured portions of activator and base throughout, no measuring or mixing tools are necessary. As the epoxy is mixed, the two contrasting colors blend into one color to indicate complete mixing.
Hardens in 5 to 10 minutes

Great for prototyping and fabricating small parts.

Can be tapped, screwed, drilled, sanded, sawed, filed or painted
Lap Shear Strength range from 350 to 900m p.s.i.
Compressive Strength range from 10,000 to 12,000 p.s.i.
Electrical resistance 30,000 megohms
Dielectric strength 300 volts/mil
Upper-temperature limit of 250°F continuous, 300°F intermittent
Chemical resistant to hydrocarbons, ketones, alcohols, esters, halocarbons, aqueous salt solutions and dilute acids and bases
Non-flammable and releases no noxious fumes
Will not shrink or pull away and unused portion stays fresh for future use when saved in its original package
Contains no solvents.
Call to mix and match different Brofix epoxy putty varieties in a 12-pack order

Reviews
(0) Ratings
There are no reviews for this product.
Questions & Answers
(1) Questions
Q: will you be able to see a color difference after using brofix on alliminium
A: Since there are many shades of aluminum, you will typically see a color difference, but you can sand and paint Brofix aluminum
Customers who bought this product also purchased