Call Toll Free 1-877-744-0751

Specialty Products Ltd.
Unique Industrial Strength Products for Professional Building Maintenance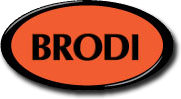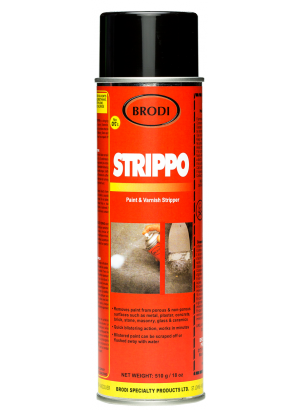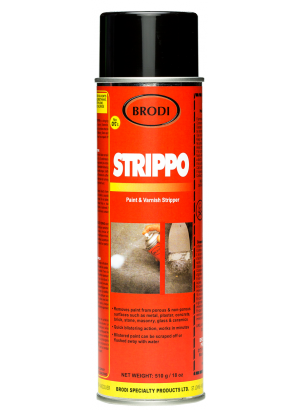 ---
---
Related Products
Strippo
Paint & Varnish Stripper
A powerful clinging gel that quickly blisters lacquers, enamels, shellacs and acrylic coatings.
Watch Video
Strippo Paint Stripper
Watch Strippo in action removing paint with its powerful bubbling action.
Product Information
A clinging jell that quickly blisters lacquers, enamels, shellacs and acrylics without corroding wood, metal, masonry, stone and ceramics. Blistered paint can be easily scraped off or water flushed. Excellent for graffiti removal.
Removes paint from porous & non-porous surfaces such as metal, plaster, concrete, brick, stone, masonry, glass & ceramics
Quick blistering action, works in minutes
One of the most powerful aerosol paint strippers on the market
Blistered paint can be scraped off or flushed away with water
For use on: Decals, heavy-duty graffiti removal, signs, antiques, meters, pumps, wood & metal furniture refinishing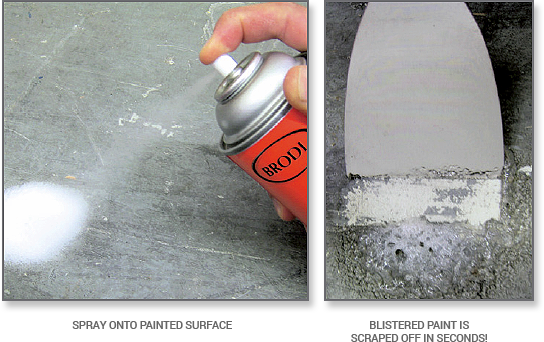 DIRECTIONS:
Clean off dirt, grease or heavy oil. Make certain the surface is dry. Hold can 20 to 25 cm from the surface. Apply a heavy coat evenly to the entire surface. Let sit for several minutes after blistering action first appears. Remove with scraper, cloth or wash with water. Repeat if necessary, after the surface is dry. Clean valve by turning can upside down and applying short bursts.
WARNING:
Protect surrounding objects from overspray. The solvent may dissolve plastics, asphalt, tile and synthetic materials. Do not allow scrapings or washings to contact food or live vegetation. Use of rubber gloves is advised if the skin is subject to allergy or rash. Avoid contact with the spray mist.
Reviews
(0) Ratings
There are no reviews for this product.
Questions & Answers
(0) Questions
Downloads
Brodi Facility Catalogue

Strippo Bulk

Strippo Aerosol
Customers who bought this product also purchased