Call Toll Free 1-877-744-0751

Specialty Products Ltd.
Unique Industrial Strength Products for Professional Building Maintenance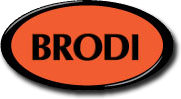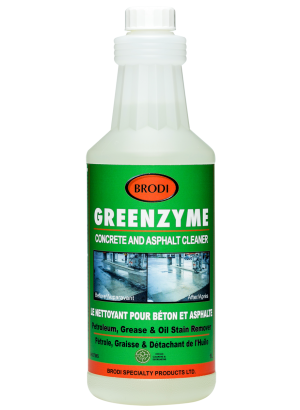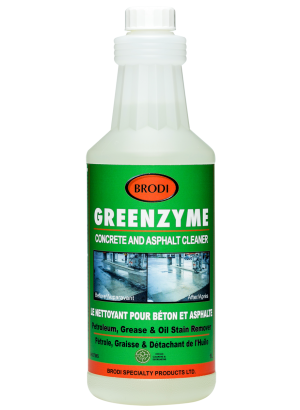 ---
This product has a minimum quantity of 8
---
Related Products
Greenzyme-Concrete & Asphalt
Liquid Enzyme Cleaner removes petroleum-based materials.
GREENZYME is quick acting and effective in removing surface stains resulting from spilt petroleum products on concrete, asphalt, rock and soil. Reduces clean-up times, increases contaminant bioavailability and initiates biodegradation.
Product Information
Features:
Inoculates contaminations with bacteria.
Cleans surfaces of oil spills and stains.
Cleans oily equipment, vehicles and tools.
Contains no petroleum distillates or solvents.
Contains essential microbial nutrients.
Enhances biodegradation above and below ground surface when used as recommended.
No removal or replacement of contaminated materials is necessary.
Product Characteristics:
Cell Count: 2 billion cfu/L
PH: 10.4-10.7
Percent volatile: 0
Solubility in water: 99%
Boiling Point: >100°C
Flash Point: Non-flammable
Appearance: Cream to white liquid
Odour Floral: perfumed

Directions for Use: GREENZYME Concrete & Asphalt Cleaner can be diluted between 1:1 for heavier loads and stains, down to 1:2 for lighter applications. Hard Surface Cleaning - concrete, asphalt: Dampen the contaminated surface, apply GREENZYME Concrete & Asphalt Cleaner and allow it to work for 20-30 minutes. Keep the worksite damp during treatment and repeat as necessary. Porous Surface Cleaning - soils: Scrape surface, dampen and apply product. Scrape the surface again and rinse. Recommended Application Equipment: GREENZYME Concrete & Asphalt Cleaner cleans petroleum-based materials from nearly all surfaces regardless of the application.
General Equipment Cleaning: Do not pre-wet surfaces or use in direct sunlight on painted surfaces. A 3:1 dilution is recommended for most applications with a maximum recommended dilution of 5:1. Pressure Washing/Degreasing: Pressure blast heavy materials. Spray surface with a 50/50 solution and pressure wash again from bottom up. Do not allow surfaces to dry.
Storage and Handling: Store in a cool dry place. Avoid excessive inhalation. Wash hands thoroughly with warm, soapy water after handling. Avoid eye contact. Wear protective clothing (rubber gloves, eye protection, etc.). Pretest new equipment finishes by applying to a small area first in the shade. Best results are seen when applied to damp concrete surfaces
Reviews
(0) Ratings
There are no reviews for this product.
Questions & Answers
(0) Questions
Customers who bought this product also purchased