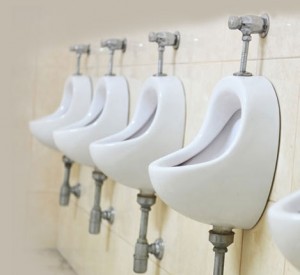 One of the worst things that can happen to any business owner is a clogged or slow draining urinal. Not only does having malfunctioning bathroom appliances reflect terribly on your company, but the smell and mess that a blocked urinal p-trap can cause would be really disgusting. So how would a business owner fix a clogged or slow draining urinal?
Finding the answer to that question starts with examining what causes urinals to clog in the first place. More often than not, they're caused by high concentrations of uric salt crystals, uric acids, and calcium that come from urine and/or the minerals in the water. After repeated use of the urinal, these uric acids build up inside your urinal's p-trap, creating a uric scale and choking your pipes. In order to get rid of the clog, you'll need to get rid of the uric scale. Also, keep in mind not every clog is caused by uric scale, so make sure to use the appropriate product for the right situation.
Clearing the clog– Full clog or Slow Draining?
Your next step in unclogging your urinal is determining whether or not you have a full clog or a slow drain.
This could be as simple as flushing to see whether or not the water flows down into the drain. If it does, you probably have a slow drain but if not, there's a good chance your business has a full clog. If it's fully clogged, it must be stuffed with something, more than likely an organic matter like cigarette butts, papers or something like that.
We'll be exploring ways to unclog a blocked drain, whether it's a non-chemical application like a plunger or a urinal snake or a chemical application– a drain opener.
Slow drains in urinals can usually only be fixed by a chemical solution. Either way, don't panic, we can help you find a solution no matter what is afflicting your urinals. This seems obvious, but determining whether you have a full clog or a slow drain will come into effect later.
Chemical solution designed for slow draining urinals.
First let's start with the slow drain, because they're easy to spot. Even though they're easy to spot, slow drains can be tricky because to the untrained eye it can be hard to determine what exactly is causing the slow drain.
For urinals at least, they're usually caused by a buildup of uric acids called a "uric scale" which clog and choke your urinals p-trap.
If only there was a product designed to bust uric scale and maintain urinals, even eliminating odor-causing materials and restoring urinal pipes to their original diameter.
Crete Heavy Duty Urinal Descaler

is the epitome of excellence when it comes to not only fixing slow draining urinals, but also regular urinal drain maintenance. Also, it is great for destroying odor-causing substances in your urinal.
Step 1
Pour 16 oz of Crete into the urinal. Crete will sit in the urinal "p-trap" slowly dissolving all forms of scale. The scale is the typical cause of slow running and foul-smelling urinals.

Step 2
Allow Crete to work overnight in the urinal. You may want to cover the urinal to avoid use during this time.

Step 3
When morning comes, flush the urinal a couple times. The urinal drain should now be in working order with its original diameter restored. Most, if not all, of the odor-causing scale should now be gone!

In some stubborn cases, you may need to repeat the process until the issue is resolved.
While Crete is great for removing slow drains in urinals, the easiest way to prevent any sort of uric scale buildup is regular maintenance of your pipes, for which Crete is perfect. Using this particular heavy-duty urinal descaler on regular basis should prevent most kinds of buildup and won't have any effect on most pipes.
Check this video to learn how to treat a urinal with Brodi Crete.
But what happens if you have a full clog instead of a slow drain?
Tools and treatment applied for fully clogged urinals.
Next, let's examine full clogs.
Let's first examine a non-chemical solution to the full clog dilemma- the urinal snake. Be kindly advised, usually you'll have to take your whole unit off the wall in order to snake it. Also, snakes will often just punch a hole in the blockage, whereas chemical solutions will eat away and destroy the blockage completely.
Why spend time, energy and possibly money working away at a clog with your bare hands when a chemical solution is an ultimate way to get rid of any full clog?
Is there even a product powerful enough to accomplish such a massive feat?
Broshot Liquid Drain Opener with Odour Control
is the king of destroying almost any clog, liquifying everything from toilet paper to cigarette butts to tampons.
Just pour it into your urinal drain and it will absolutely decimate all kinds of debris. Burning through clogs and suppressing odor while it does it, this safe on most pipes, fast-acting drain unblocker will obliterate all urinal clogs within minutes.
Check this video to learn how Broshot is in fast action to dissolve obstructions.
If after the clog is cleared you find your urinal still is draining slow, use Crete regularly until it returns to working order.