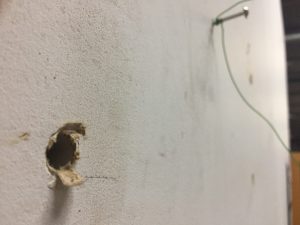 Wooden supports, beams, floors and other wooden parts can beautify just about any space, whether it be your home or place of business. It gives the place an old-time, rustic, down to earth kind of feel. However, the slow march of time can cause old wood to crack or wear down, making it look rustic but in a bad, trashy way. If this happens to your place of business, do you go out and buy new stuff? Hire a carpenter to tear it all down? Probably not, as some wood supports, beams, floors and other wooden parts are irreplaceable and an integral part of the interior design. So is there another way to restore your wood to it's former glory?
The most common wood damage you'll run into
Before we begin diving into the wonders of fixing wooden structures, we should answer a couple of important questions. What kinds of damage could our wood have? What are the most common and how do we recognize them?
To put suspense aside, the two most common wood damages you'll probably run into is a crack or scratch in the wood and stripped screw or nail holes. We should avoid a long winded biology lesson here and not talk about the molecular structure of wood, let's just move on to the idea that a lot of use over the years causes wood fibers to crease, which would eventually cause a crack. Obviously the second is caused by drilling in screws or nailing in nails. Cracked and damaged wood is deadly for any commercial building with wooden supports, beams, floors and other wooden parts.
There are lots of different things you can use wood epoxy putty for, too:
Are great for dry rot repair, rot repair in general, breaks, cuts and scrapes.
To fill nail holes, stripped screw holes, scratches, gouges, cracks, dry rot, knot holes as well as fill problem areas in your wood, if need be.
The best for filling screw and nail holes
If you have a wood restoration business or furniture restoration company, wood epoxy putty stick would be a great stuff for wood furniture restoration.
But how do we fix it? Maybe try wood repair putty? Also, the wood epoxy putty stick is incredibly easy to use. Let's explore how it fixes one of those aforementioned cracks, shall we?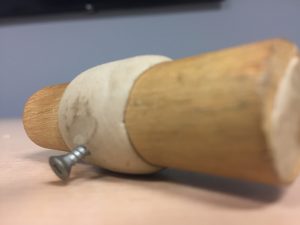 Restoring damaged wood structure finish
Epoxy putty is a genuine miracle product for anyone with a break in their wood. This wood hardener sticks to wood surfaces, is a great wood filler and it integrates perfectly into any wooden supports, beams, floors and other wooden parts you're trying to restore or repair.
Access the crack and determine how much of the wood epoxy putty stick you'll need for the job. Obviously, the amount of application needed will vary based on the size of the break.
Use a knife (preferably a putty knife) to cut off a piece of the stick as needed.
Mix the hardener and the epoxy together. Make sure it's mixed so it's all one uniform color.
Once it's all one uniform color, spread the epoxy putty around the break and wait for it to cure.
The wood epoxy putty stick cures to repair and rebuild wood and once it's cured it becomes an integral part of whatever piece of wood you were trying to fix. Of course, where and how exactly you put on the epoxy will change depending on your break, so try to keep that in mind as well.
Once the wood epoxy has cured, it can be sanded and stained. Find the color of your wooden supports, beams, floors or other wooden parts and stain the epoxy.
Use some wax to give old wood some shine.
Now that you know the how and when to use a wood epoxy stick, WHICH of the many wood epoxy putty sticks should you use? Which is the best on the market?
Brofix Wood epoxy putty repair stick
Introduce the Brofix Wood epoxy repair stick by Brodi, the best possible wood epoxy stick on the market. This stuff is perfect for all of the above uses and has some great statistics to boot. Let's explore them, shall we?

As mentioned before, great for all of the above uses
This product is very versatile, and can be used in exterior or interior applications.
Contains no solvents, no odour.
Great for prototyping and fabricating small parts.
It's the best on the market to be tapped, screwed, drilled, sanded, sawed, filed or painted
Lap Shear Strength range from 350 to 900m p.s.i.
Compressive Strength range from 10,000 to 12,000 p.s.i.
Electrical resistance 30,000 megohms
Dielectric strength 300 volts/mil
Upper Temperature Limit 250°F continuous, 300°F intermittent
Chemical resistant to hydrocarbons, ketones, alcohols, esters, halocarbons, aqueous salt solutions and dilute acids and bases
Non-flammable and releases no noxious fumes
Will not shrink, crack, rot or pull away.
There you have it, folks. Now you're an expert on wood epoxy and everything that surrounds it, including which brand and product you should use to get the job done in the best, most efficient way. That product by the way, is the Brofix Wood epoxy repair stick by Brodi. Need some repairs for your wood? Trust Brofix to help you fix it.