There are many ways to keep your grease trap running smoothly without having to worry about slow drainage, odors or blockages. There is nothing worse than the smell of a poorly maintained grease trap, so here are some options for you
that pretty much spell out the top 3 ways to maintain grease traps.
1] Cleaning Service – Pumping Out

You can make use a grease trap cleaning service. They will clean and pump out your trap on a regular basis. This is not a bad option, but it can be expensive and can disrupt your business with hoses and service people coming into the access area for your trap. It may not fix the problems you may have with excess usage for the size of trap that you have. Thus your trap is usually going to be full and messy in between cleanings plus all excess grease will flow into your drainage system. This can cause problems with your municipal authority and cause backups.
2] Manual Cleaning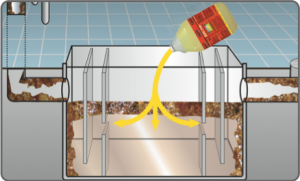 You can pop open that lid and use some industrial trap cleaning products that are widely available. We suggest an emulsifier to start with, that will break down your heavy build-ups by dissolving the grease allowing it to wash down the drain system. This is used to bring your trap back to original condition and should be only used once at the beginning of your maintenance cycle. Since the whole idea of the trap is to stop the grease and not allow it to wash down the drain. Having grease going through your main drains can cause major blockages in the future that can be very expensive to fix. You can use something like CGTC-750
3] Automated Enzyme-Based Systems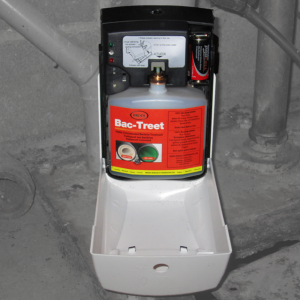 These are the best solutions and can be tailored to fit your budget. The dispensing units can be programmed and set to dispense just the right amount of bacteria. Activated by enzymes over the right amount of time according to your trap size and frequency of use. The good news is that there are now modular battery-powered dispensing systems that are very easy to install yourself and are much cheaper than the old solutions that have been out there for years. Basically how it works is that the liquid enzymes produce colonies of good grease eating bacteria that actually eat all the grease in your trap so it never accumulates. It will also treat the drains coming from your trap as well so that your whole system will flow well. The by-product of the bacteria producing enzymes is water, so it's a very environmentally sound system and if set up correctly can make you forget you even have a trap. Take a look at Bac-Treat Automated Battery Powered System for Grease Traps