The combination of live electrical devices and water can often make one think of short circuiting, circuit damage, electrical fires, melted insulation, rust and corrosion. However, there is a way to protect live electrical devices from water and extend their working life.
How to protect electrical devices from water
Electrical equipment gets ruined by water when the path of resistance is less than the electrical path of the circuits, causing a stronger-than-normal electrical current. As water is very conductive, the flow of electricity will not just move in the direction intended by the electrical device, but will go everywhere water can be found. These currents generate excessive heat which causes damage to live electrical devices. Moisture can cause equipment failure, which increases downtime and costs.
One solution would be to turn off or disconnect electrical devices when they're around water. However, these devices can be essential to business operations. Some live electrical devices, such as hazardous ventilation systems, create more hazards when shut down. Shutting down all your live electrical devices is simply not practical and could hurt your business.
Another option is to use a basic water displacing oil that drives out moisture, such as WD40. These basic water displacing oils are good for short term use but since they are not lubricants, they will create build up and eventually evaporate. You will have to apply them frequently and often which makes them unreliable.
Something better than WD40
The best solution is to find a water displacing, non conductive spray which helps to displace moisture and protect electrical devices from water. It's important to find a spray that has high dielectric strength, as this is what helps to ensure that electricity can't be conducted.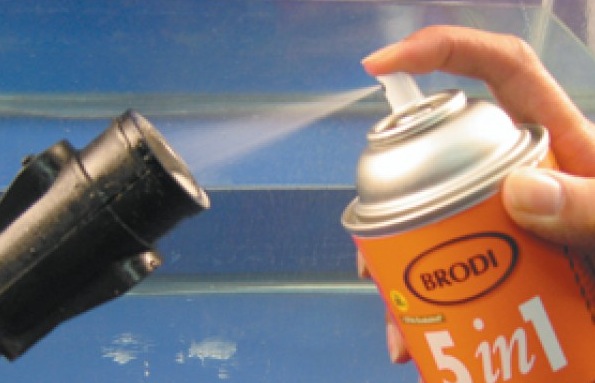 One product available is Brodi 5 in 1, an all purpose spray which not only displaces moisture, but takes the place of water and moves it from causing any damage to live electrical devices. It creates a high dielectric film barrier through which electricity can't conduct. This is one of the main differences between Brodi 5 in 1 and WD40: 5 in 1 is able to penetrate the moisture, whereas WD40 will simply float on top of water.
Brodi 5 in 1 is also non-flammable, rust preventative, and never dries or freezes – meaning it will work at full capacity in any climate. It can be used on light sockets outside of a theatre, marine equipment, door hinges or live electrical connections  It is also lubricating, meaning it can be used as a rust preventative spray which helps to prevent corrosion. Great for vehicles affected by water or flooding. Finally, this lubricating oil is non-evaporating, meaning that it will offer protection over a long period of time and not leave any residue.
Click here to learn more about Brodi 5 in 1, including videos of the product in action.