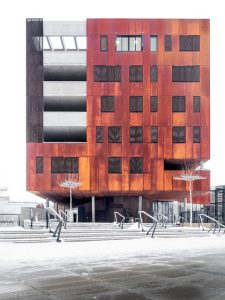 Winter can be a magical time. Children playing in the snow, families reuniting over the holidays, friends gathering around cozy fireplaces. Of course, along with the colder temperatures comes the sometimes perilous and unpredictable winter weather and piles of snow and ice that never seem to disappear.
If you own a residential property or manage a commercial property, you know how important and difficult it is to keep walkways, entranceways, driveways and sidewalks clear and safe in these conditions. With so many options for granular and liquid de-icers on the market, what's the best way to remove hard-packed snow and ice?
How do de-icers work?
Anti-icing solutions keep snow and ice from bonding or freezing to surfaces. This means that when you shovel or plow, you'll be able to remove all snow and ice. There won't be a thin (and potentially treacherous) layer of snow or ice left behind. This also helps prevent hard-pack and build-up that often results from long winters.
Types of de-icers
Many of us are used to seeing the giant piles of rock salt that municipalities keep stocked in snow-prone areas, always ready to be deployed by snowplows and trucks at the threat of an incoming storm. But there are more options than this old-school solution. Many products are combinations of the following compounds:
Sodium chloride (rock salt)
Calcium chloride
Potassium chloride
Magnesium chloride
Corn-based products
In addition to the chemical make-up of the anti-icing and snow removal solutions, you can also choose between deicing pellets or liquid products.
Which de-icer is best?
There are many factors to consider when you're choosing a method for removing snow and ice, including:
How much snow and ice you typically get?
How cold it tends to get?
What's the environmental impact?
How will the application area (concrete and vegetation) be impacted?
How much does it cost?
Sodium chloride, for example, is inexpensive but it only works down to -9°C and is highly damaging to the environment, surfaces and animals. Calcium chloride tends to be more effective at lower temperatures and is safer for the environment, but it can still damage concrete. Magnesium chloride generally doesn't harm the pavement surface or surrounding plants and animals, but it may result in slush accumulation.
No matter which product you choose, liquid applications are likely to be more effective and kinder to your surfaces. Pellets or granular applications can erode the surfaces they treat.
How ZeroGo liquid ice-melter can help you get through the winter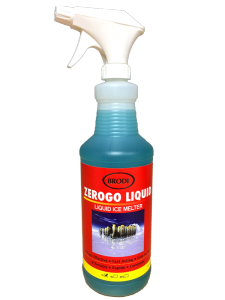 Here at Brodi, we know winter. With years of experience in the chemicals industry, we've developed a cost-effective and fast-acting liquid de-icer to help make those harsh winters a little easier to bear.
Introducing ZeroGo Liquid, a magnesium chloride liquid snow and ice-melter. Our fast-acting formula penetrates hard-packed ice and snow and prevents the bonding of snow and ice. It's effective in temperatures as low as -40°C.
It's an ideal alternative to harmful deicing pellets. Our liquid ice-melter allows for pre-wetted material to become effective immediately when mixed with sand or salt. It is formulated with no calcium or sodium chloride in order to reduce the corrosion of metals and concrete and leave minimal traces on the surrounding environment.
It's effective on a variety of surfaces including sidewalks, driveways, stairs, concrete, loading docks, plastic, rubber and bridges. We included a non-staining, biodegradable coloring agent so you can see where you've already applied and not waste any product.
The best news? It's cost effective, so you can keep your property safe without breaking the bank.
How to apply liquid de-icer
While each product will contain specific directions, here are the general steps to removing hard-packed snow and ice:
Follow all safety instructions included with the product
Before the storm, apply a small and strategic amount of liquid de-icer
If it has already started to snow, shovel snow accumulation prior to application
Once you have plowed or shoveled snow, apply a thin layer of liquid de-icer
Make sure you don't spray the product on your plants
Keep pets and children away from the product
Don't apply too much or else you may get a slippery surface
It comes with sprayer nozzle on the 1L bottle.
Industrial Service Sprayer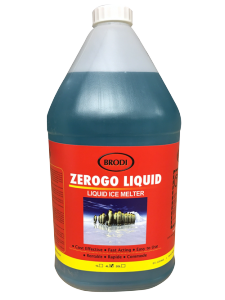 For the 4L Jug ZeroGo Liquid, there is Industrial Service Sprayer available and can be purchased separately at Brodi online store. It's ideal for many commercial jobs.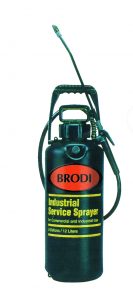 chemical resistant leak-proof Viton seals
42" polyethylene-lined reinforced hose with flexible 16" polymer wand for easy spraying
in-line filter prevents clogs in spray tip
polymer adjustable and fixed fan spray tips
pivoting external carry handle and convenient carry strap for easy pouring and carrying
3-1/2 gallon actual capacity
3 gallon operating capacity
Remember, for ice-melters, application rates may vary. Each product will tell you how much to use given the surface area you want to clear.
And that's it! Whether you're in the middle of a harsh winter season or preparing for the next one, don't panic. Think smart, think Brodi.
Resources:
https://www.cleanlink.com/hs/article/Ice-Melt-Dos-and-Donts–5191
https://stormwater.pca.state.mn.us/index.php?title=Keeping_surfaces_clear_for_winter_parking_lot_and_sidewalk_maintenance
https://www.huffingtonpost.com/2015/01/26/why-does-salt-melt-ice-science_n_6547772.html
https://www.thisoldhouse.com/ideas/pro-tips-snow-and-ice-removal
https://www.thoughtco.com/what-is-the-best-deicer-3976106
https://www.consumerreports.org/exterior-maintenance-repairs/best-ice-melt-how-to-use-ice-melt/